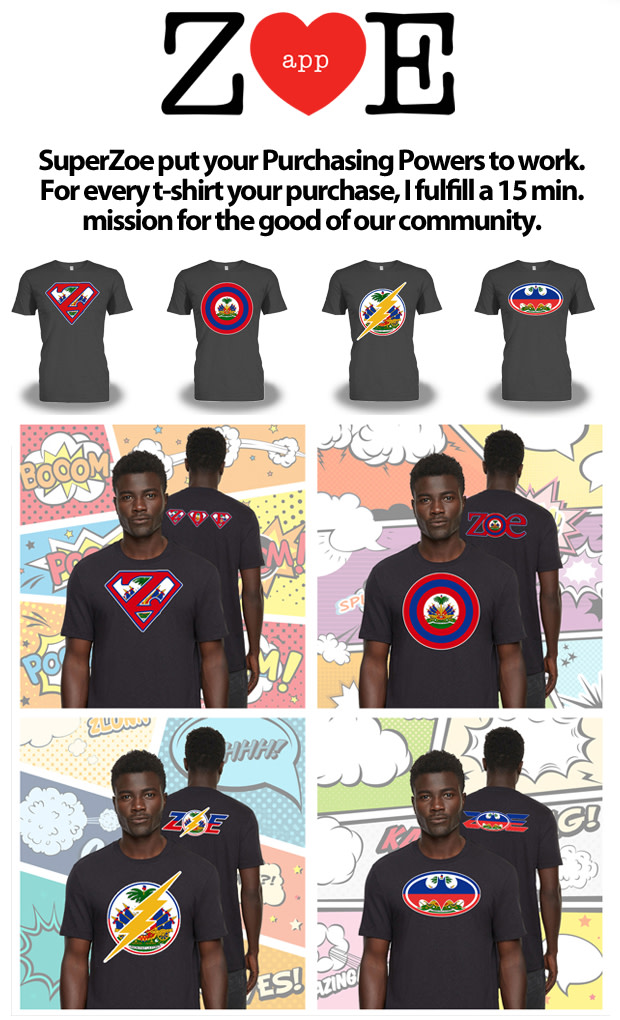 What Our ''SuperZoe'' T-Shirts Say About You
You are aware of your Purchasing Powers.
You are helping Haitian Workers to repeat history.
You prefer to fly in the sky instead of marching in the streets!

What You Get
SuperZoe Apparel is more than a fashion statement.  Find out how rewarding wearing a ''SuperZoe'' or a ''ZoeLover'' T-shirt can be:
I send you an original SuperperZoe T-Shirt of your choice.
I fulfill your mission.
I post your mission on my Social Networks with a shout out to you.

The money will be use to:
Purchase the apparel inventory and the equipment needed to create and print more designs.
Finance the developpement of the SuperZoe App
Support financially the Haitian Union ''Batay Ouvrye''
Pay for my expenses to accomplish my missions.
The Impact
Each piece of apparel make a lasting impression. Wearing them raise up conversations and help spread the word about how our Purchasing Powers can create jobs for the good of our community.  Like you are doing with me. My job is to fulfill the 15 min. mission you assign me.
Buying T-Shirts from Hanes and Gildan also increase our leverage as customers to demand theses corporations to increase the salary of Haitian workers.
On another spectrum, you also empower their Union to lead their fight for a living wage.
Risks & Challenges
As with any project there always comes some risk and unforeseen events. I am committed to keeping all risks to a minimum.
Our partners have been manufacturing T-shirts and working with clients for years. So this isn't something totally new to them and I am confident in my ability to get you your t-shirts in an efficient manner.
I'm  committed to keeping you updated about my progress and what's going on with my missions every step of the way.